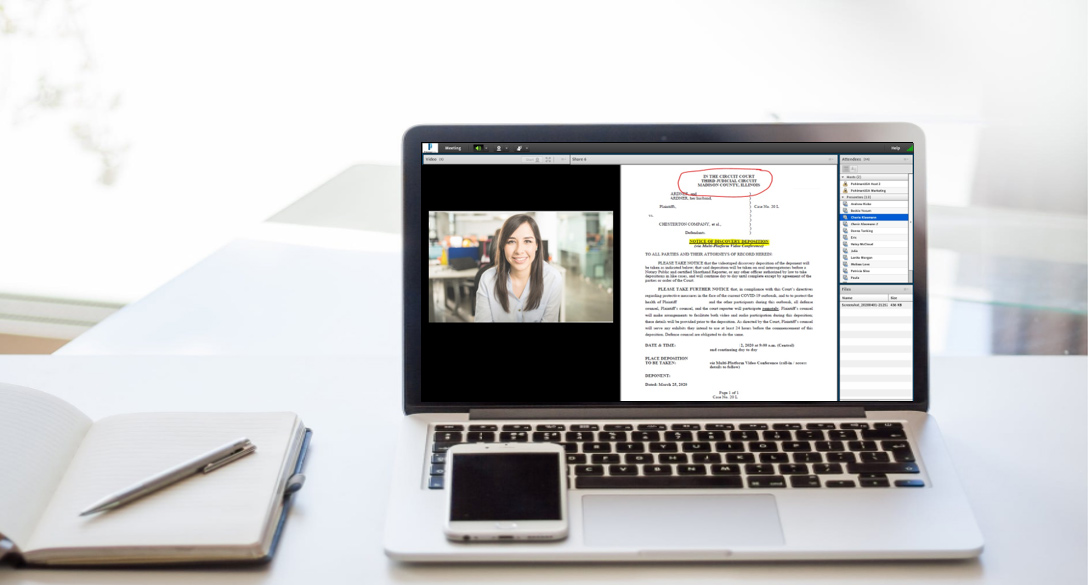 Remote Depositions
At home or anywhere in the world, your deposition is still on schedule.
With PohlmanUSA counsel and deponent locale are never a concern. With our remote deposition services, we can coordinate all logistics and deploy the right technology to you, and provide first class service with end-to-end support.
Multi-Platform Video Conferencing (MpVC)
Now with New Platform Options and Enhanced Services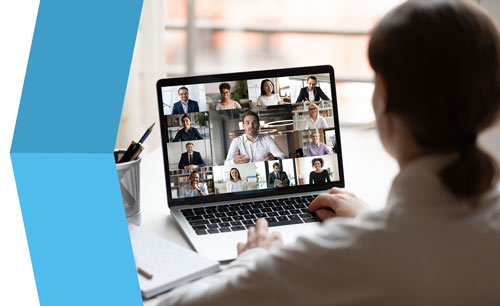 When travel is not an option, or you need to reduce travel and the related expenses, you can rely on Pohlman's MpVC technology to remotely connect to a deposition, proceeding or meeting from the comfort of your home or office via a phone, tablet, or computer.
For the past decade, Pohlman has combined the convenience and cost-savings of attending proceedings telephonically with the benefits of attending in person by providing Multi-platform Video Conferencing on depositions around the globe. Because you asked, and We're Always Listening®, we have added another new, secure platform option to best suit client and case needs. We understand with the effects of COVID-19 there are now added demands of appearing remotely and we are providing you choices:
MpVC via Adobe Connect. Our signature MpVC platform leads the industry for document or exhibit intensive proceedings. This platform is administered through Adobe Connect and assures Secure Sockets Layer (SSL), Transport Layer Security (TLS) encryption and configuration, secure links and firewall protection to keep sensitive case information secure.
Preload and hide documents until ready to share
Screen share capability to show exhibits
Interactive document annotation in real time, and with on-screen edits
Participants access via iPad/Tablet/Laptop
Additional MpVC Platforms
Our alternative platforms bring the same security, but are pivotal when participants, particularly the witness needs simple technology to join. Perfect for virtual meetings, or proceedings with light document sharing needs.
MpVC via Lifesize or Zoom. 
Simplistic Login
Screen share capability to show exhibits
Integrated Internet or Conference audio quality
MpVC via Zoom. 
Screen share capability to show exhibits
Interactive document annotation in real time
Integrated Internet or Conference audio quality
Participants access via iPad/Tablet/Laptop
See how PohlmanUSA has the platform options, experienced logistics team and end-to-end support for your next remote deposition.
The benefits of Pohlman's MpVC technology across all platforms:
Efficiencies


Reduce travel expenses



Eliminate risk of travel delays and flight cancellations



Cover more ground and keep discovery at a steady pace
Convenience


Logistics made easy



Simplistic and flexible to use



Conduct and attend depositions anywhere, anytime from any location
Security


HIPAA Compliant



Host controlled for unintended participants



SSL and TSL configuration and encryption
PohlmanUSA's Remote Deposition Logistics Team consults with our clients on meeting the demands of the case needs and provides recommendations on the best platform to reach the desired outcome.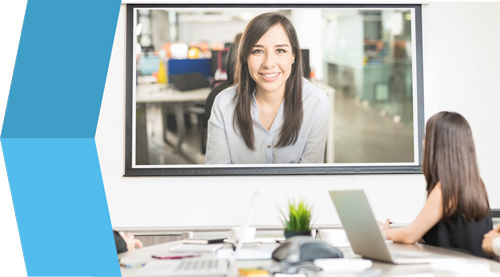 Connect via HD screen to unlimited locations around the world using Pohlman's VC technology as a secure, cost-effective solution rather than traveling to a deposition or meeting.  Pohlman allows clients to connect with deponents, co-counsel, or another party via broadcast high quality video in both our St. Louis and Chicago locations.
Connect to unlimited locations
Display document to the room or remote viewers
Technical support available on site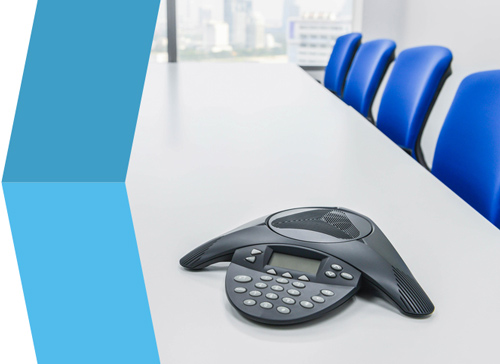 Always available when visual participation is not critical, connect your deposition or meeting parties remotely via a clear, crisp connection using our teleconferencing lines. Pohlman employs state-of-the art teleconferencing equipment for use at each telephonic deposition to ensure our clients receive the highest sound clarity for all participants whether on the phone or in the room.
Pohlman was one of the first court reporting companies in the country to provide technology to enable participants to preregister online for telephonic depositions.  We have since perfected our online registration process, allowing firms to add their clients and information prior to the start of a deposition  to ensure it runs quickly and smoothly.
Get Started
For more information on any of our services, please contact us.