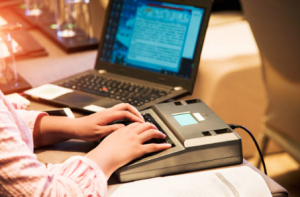 There are currently thousands of unfilled court reporter positions across the country. One factor affecting the shortage is a lack of resources and education for potential reporters. At PohlmanUSA, we love sharing our passion for reporting, that's why we are presenting a free six-week program focused on teaching the basics of the profession.
The NCRA A to Z™ Intro to Steno Machine Shorthand program presented by PohlmanUSA will help participants learn more about court reporting and gain the necessary skills to succeed in the profession.
The program will also introduce students to career opportunities within the field and teach them fundamentals such as writing the alphabet and numbers in steno. PohlmanUSA CEO Debbie Walters said this is a great opportunity for people to gain hands-on experience in court reporting and learn more about what the career has to offer.
Walters said in addition to trial reporting, steno reporters can have careers in closed captioning for major events seen on TV, such as sporting events, political coverage, breaking news and high-profile court cases. Court reporting school takes approximately two years to complete and graduates learn to write accurately at 225 words a minute.
This amazing six-week program will be held on Saturday mornings at 9 a.m. from July 20 through August 24. Each class will be held at PohlmanUSA's downtown St. Louis office located at 10 South Broadway, Suite, 1400 and will last approximately 2 to 3 hours. Registrants do not need any materials to attend this program.  PohlmanUSA will provide necessary items to complete the introduction for steno machine shorthand. To register, call Amber Leuschke at 314-450-5504.
https://pohlmanusa.com/wp-content/uploads/2019/07/stenograph.png
298
453
jordan@bammarketingagency.com
/wp-content/uploads/2020/02/Pohlman_WebLogo_Badge-logo2.png
jordan@bammarketingagency.com
2019-07-18 14:32:15
2020-01-11 18:56:10
PohlmanUSA Offering Free Six-Week Court Reporting Introductory Course